Hebron Presbyterian Church has a long history, and we are frequently reminded of this when we come across stories, articles, and other information related to its past. To preserve this information, we are including it on this page below.
We encourage you to browse this page's contents. We have made little attempt to organize the information shared here, so enjoy your stay as you share these memories.
Mary Tyler "Bebe" Hamilton left us in January 2019 to be with her Lord. "Bebe" was a long-time member of Hebron Presbyterian Church with deep family roots here.
But her Bullitt County roots go even deeper, some back to a time when the county was first getting organized.
Her father, Jesse Vernon Bell was a grandson of Charles Bell, the proprietor of the old Bell's Mill for whom that road is named.
Jesse Vernon Bell was a son of John and Laura (Williams) Bell who were married in Bullitt County just before Christmas in 1869; and it is through Laura Williams that Mrs. Hamilton's roots extend back even further.
Laura's parents were Samuel B. Williams and Mary Verlinda Summers who were married in Bullitt County in 1838.
Samuel was a son of John and Mary (Burkes) Williams, and grandson of Lieutenant Jarret Williams who settled in Bullitt County after serving with George Rogers Clark in the Illinois campaign of the Revolutionary War.
Mary Verlinda Summers was a daughter of Benjamin and Verlinda (Beckwith) Summers. This Benjamin Summers was Bullitt County's first sheriff. His wife Verlinda was a daughter of John and Martha Beckwith who came from Maryland to Bullitt County during its early days.
We've added links to additional stories and information about Mrs. Hamilton's ancestors available on the Bullitt County History Museum web site.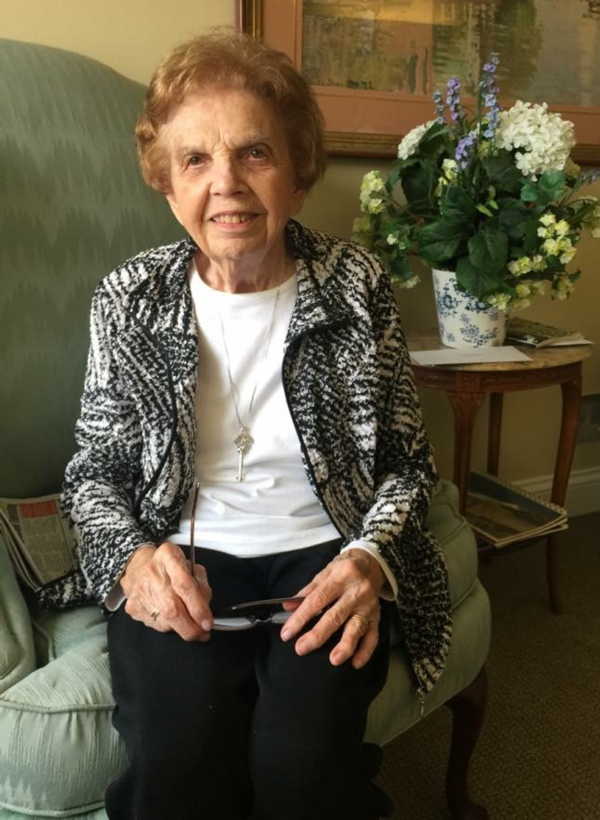 David Lawson Brooks arrived in Bullitt County from Pennsylvania sometime before 1823 for he married Mary Hornbeck, daughter of Samuel and Susan (Coffman) Hornbeck, in October of that year.
The Hebron Presbyterian Church souvenir booklet prepared for the 140th Anniversary in 1998 included the obituary for David Brooks shown here.
David and Mary would have a son, Samuel, and six daughters, Dorothea, Mary, Sophronia, Laura, Susan, and Teresa. Mary Hornbeck Brooks lived until 13 Sep 1855, and David lived until the summer of 1869. Of the children, the only one that we know to have married was Dorothea who married William Sheridan, a carpenter whom she married in 1853.
Of the others, we know from the souvenir booklet that Sophronia died prior to the death of her father. We know that Laura, Susan, and Teresa never married from death records. The daughter Mary does not appear in census records after 1860 by that name.
We also know from the booklet that Samuel D. Brooks, the son, was for a time a ruling elder of the church. He also served in the Confederate army during the Civil War. Samuel never married. He died in 1908.
William and Dorothea Sheridan lived in Louisville and had two daughters, Mary Jane and Louisa; neither of whom ever married. William, who was from Ireland, died in 1876. Dorothea, who was often called Dollie, lived with her daughter Mary Jane until her death in 1916.
The Young Family.  Another family in the 1875 church list was that of Theodore and Elizabeth Young. The Young family lived along the Shepherdsville Pike, and near Fishpool Creek in the Crossroads District of Jefferson County. This is likely land inherited by Elizabeth through her Moore ancestry.
Theodore William Young was born about 1808 in Lexington. He married Elizabeth Moore Pendergrast in 1831 in Jefferson County. Elizabeth was born in 1811 to Jesse and Elizabeth (Moore) Pendergrast. This Elizabeth Moore was a daughter of Colonel James Francis Moore whose name is frequently mentioned in the early history of Bullitt and Jefferson counties. You may learn more about Colonel Moore on this page, which also includes additional information about his daughter Elizabeth.
Theodore and Elizabeth Young had numerous children including at least nine that lived to adulthood. These included Margaret, John, Garrett, Virginia, Martha, Theodore, Mary, William, and Jesse. Of this family the following were in the 1875 list: Theodore W. Young, Mrs. Elizabeth M. Young, Miss Virginia B. Young, Miss Martha C. Young, John T. Young, and Garrett P. Young. Theodore, the father, and Garrett were identified as church deacons, and Garrett was also a trustee.
The Williams Family. Mary Verlinda Summers married Samuel B. Williams in Bullitt County on 20 Dec 1838. Samuel and Mary had seven children: John Benjamin (1840), Annie Elizabeth (1842), Franklin (1844), Laura (1846), Samuel B. (1848), Verlinda (1851), and Sarah (1854).
Samuel Sr. was a son of John and Polly (Burks) Williams, and a grandson of Jarret and Elizabeth (Phelps) Williams. Jarret Williams had been a lieutenant in the Illinois regiment under George Rogers Clark during the war, before settling in Bullitt County.
Mary Verlinda was a daughter of Benjamin and Verlinda [Volinda] (Beckwith) Summers, and a granddaughter of John and Martha (Williams) Beckwith, a family we mentioned further down this page.
Samuel B. Williams Sr. had died by the 1870 census. The 1875 list of Hebron Church members included Mary and her seven children.
Of these, Samuel Jr. was then a ruling elder, while Franklin and John Benjamin were deacons. The Williams family and their descendants have continued to worship at Hebron down through the years.
Follow this link to learn more about the Williams family, and this link to read about the Beckwith family.
The Canfield Family. Five of the members of the Hebron Presbyterian Church in 1875 were the grown or nearly grown children of Isaac and Selina (Morton) Canfield.
Isaac Washington Canfield was pastor at Hebron from 1869-1874. We know from the 1870 census record that he and his family were living next door to S. N. Brooks at that time. He is also found in the 1880 census living near Huber Station. His wife, Selina had died in March 1874, and there are indications that this may have affected his ministry for a time.
Their five children on the Hebron roll were Elizabeth, Helen, Mary, Selina, and William Q. Canfield.
Isaac was born two days after Christmas in 1823 in Morristown, New Jersey to Robert and Ruth (Walton) Canfield. He married Selina Jane Morton in October 1850 in Shelby County and they would have eight children: Helen Walton (1851), William Quin (1854), Elizabeth Morton (1856), Selina Jane (1858), Mary Agnes (1860), followed by Benjamin, James, and Joseph who all died as infants.
Selina Jane Morton, daughter of William Quin and Elizabeth McRoberts (Venable) Morton, was born in May 1830 in Prince Edward County, Virginia.
Isaac had graduated from Centre College in 1844, and attended the Princeton (NJ) Theological Seminary for a year. He was ordained to the ministry in 1852 while in the Presbytery of Upper Missouri. Prior to coming to Hebron he had served at a church in Shiloh, Tennessee.
Isaac and his children would later move to Parsons, Kansas where he died in 1899.
The Armistead Family. In 1875, Lewis Carter Armistead and his wife Rosa were listed as members of Hebron Presbyterian Church. Additionally, four of their children had been baptized there, including Jennie, Hattie, Lewis Hamilton, and Mary McNutt Armistead.
The family was still in Bullitt County in the 1880 census with six children including the four mentioned above and two sons, Berkley and George.
L. C. was born in Alabama, and educated at Florence Western University and the United States Naval School. At the beginning of the Civil War he joined the Confederacy, served with Tennesse units, rose to the rank of Captain, was involved in numerous battles including Perryville (Ky.), and was captured twice but escaped each time. Following the war he turned to farming, and at Louisville he married Rosalie Dobbin in 1867. They moved to Sumner County, Tennessee in 1883. His wife died there in 1885. Lewis followed in 1897.
The Huber Family. Among the members of Hebron Presbyterian Church in 1875 were James Henry Huber (shown here); his wife, the former Henrietta Douglas; James' children by an earlier marriage, Louis, Jay, Harriet, and Abba; and two by Henrietta, Mary and Willie.
The son of a Presbyterian minister, James Henry Huber joined the business world early, working first as a clerk in the office of an iron furnace at Shepherdsville. After a short time he became their bookkeeper.
Moving to Louisville, Huber became a partner in the music and instrument house of D. P. Faulds & Company, but sold out his interests there to enlist in the Mexican war about 1847.
After that war, he returned to Louisville and worked for various companies. During this time he joined a group of men who obtained a state charter in 1854 to organize the "Young Men's Christian Association of Louisville," and served as the organization's first president.
When the Civil War broke out in 1861, he was a senior clerk for the Hamilton Company, one of Louisville's pork packers. When the Hamilton Company established a banking house, Huber became its cashier. The bank would later become known as the People's Bank of Kentucky.
In 1866, Huber purchased 333 acres of land along the railroad in Bullitt County from the estate of Charles Q. Armstrong. He soon moved his large family to their new country home.
In those days, it was more convenient to ride the train between Louisville and Shepherdsville than to travel the rough roads. The local trains would often stop in rural areas to allow passengers to board or depart near their homes. Huber didn't waste time before convincing the railroad to build a small depot on his land, and it was finished by June 1871; thus Huber's Station was born.
To learn more about this family, check out this page and this page on the Bullitt County History Museum web site.
The Brentlinger Family. At the 17th anniversary of Hebron Presbyterian Church in 1875, a list of the church's members was published. Among those listed was Mrs. Mary J. Brentlinger. Among the baptized children listed were four of her children: Peter McMillen, Margaret Eliza, Joetta Lee, and Walter Wade Brentlinger. We have learned a bit more about this family.
Josiah Wells Brentlinger and Mary Jane McMillen were married in April 1860 in Clark County, Indiana, and promptly set up housekeeping near Brooks Station where they are found in the August rendering of that year's census.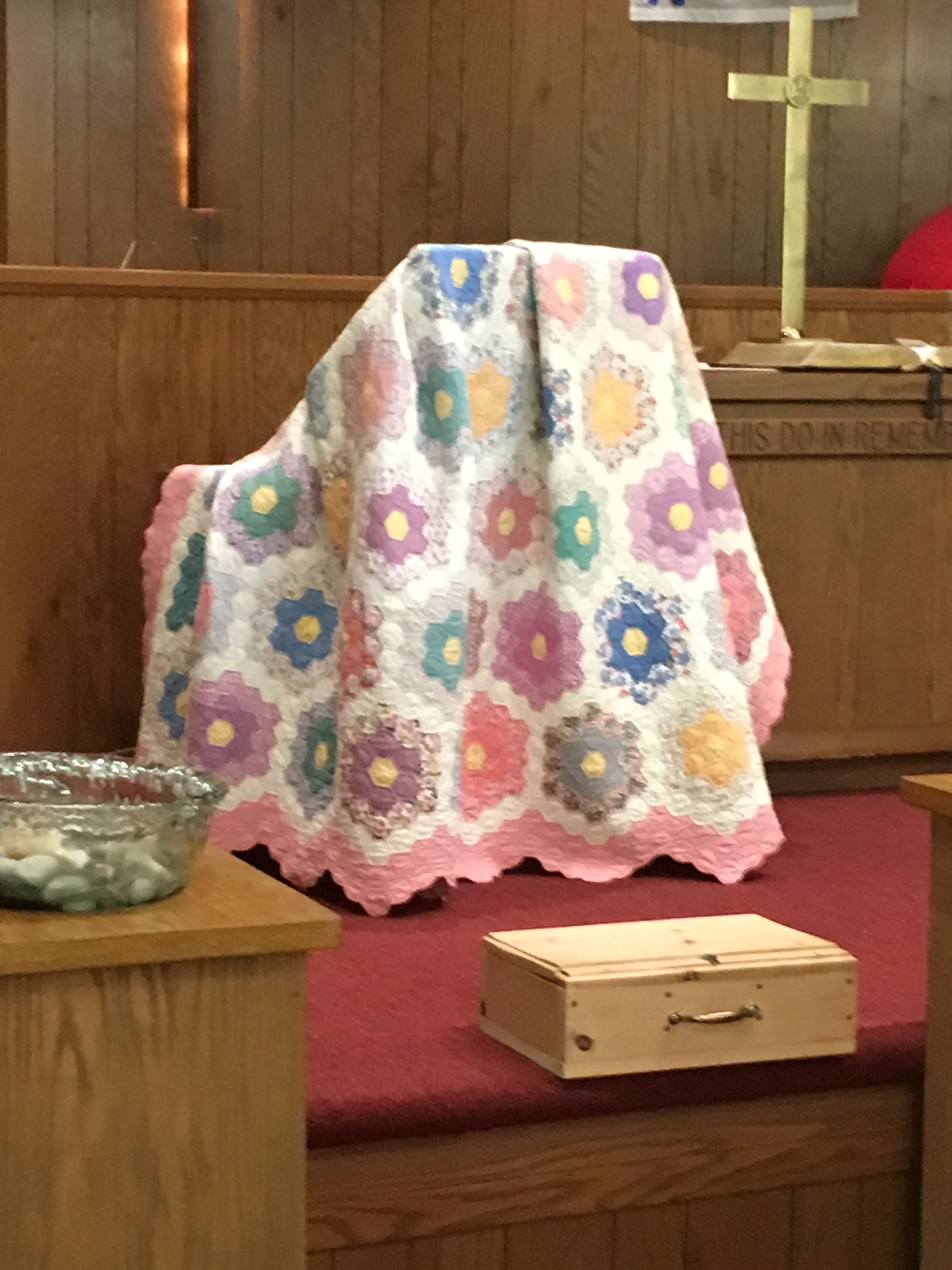 In the 1930's quilts like this one were created by Hebron ladies and used as fundraisers. This one was given to Nan Wilkins' parents as a wedding present.
Their first child, Peter was born the following February; and their second, Margaret in September 1862. By Christmas time in 1866 their family had grown with the addition of Joetta in June 1864, and Walter in October 1866. Then tragedy struck twice. Available records indicate that Margaret Eliza Brentlinger died in August 1868, just prior to her sixth birthday. Then the following summer, young Peter McMillen Brentlinger died in July of typhoid fever.
By the 1870 census, the family was still in Bullitt County, and the previous September had added a son they named Thomas.
We know that the family was living in the Cross Roads District of Jefferson County by 1880, and given that neither Thomas nor their other children born before 1875 were in the Hebron baptism list, it is likely that they moved there soon after 1870.
An 1879 plat of the Cross Roads District shows the J. Brentlinger home alongside the Pennsylvania Run, about halfway between the old Pennsylvania Run Presbyterian Church and the Bullitt County line. It is very likely that they moved to that church from Hebron.
Josiah and Mary Jane would have twelve children in all, adding John in 1871, Emma in 1874, Mary in 1876, Samuel in 1878, Marcus in 1879, Nettie in 1882, and Bettie in 1883.
Josiah died in 1892, and Mary Jane followed in 1902. Both are buried in the Pennsylvania Run Cemetery, along with a number of their children.
Another Hebron Family. Hal Palmer Hedges married Jeannette Lee Compton in 1915, and by 1940 they had a son and three daughters. In June of that year, their eldest daughter, Dorothy Madeline married Laurence Fackert. The wedding was performed by the Rev. George W. Cummings at the the Hedges' home church, Hebron Presbyterian Church. The wedding details are given in the announcement shown here.
Then, a year later in June 1941, Dorothy's sister Mary Frances Hedges was married to Paul Vernon Jones, Jr. The Rev. Dr. William H. Hopper performed the wedding, again at Hebron Church.
Laurence and Dorothy were married for more than 60 years before his passing in 2000. She was a retired teacher, and a volunteer with the School of the Blind at the time of her death in 2012.
Mary Frances and Paul were approaching their 68th wedding anniversary when she died in 2009. Like her sister, Mary Frances was a retired school teacher. Paul, who was a navy veteran of World War II, lived until 2014.
Another note about Hal Hedges, a newspaper note in 1933 reported that "H. P. Hedges, Shepherdsville contractor, was awarded a contract for reconstruction of the Girl Scout Lodge at Camp Shantituck on the Preston Street Road. Plans call for a one-story frame building with an open pavilion for dining, and an inclosed kitchen and pantry."
Hal and Jeannette were long-time members of Hebron Church, and she was a charter member of the Bullitt County Homemakers Club.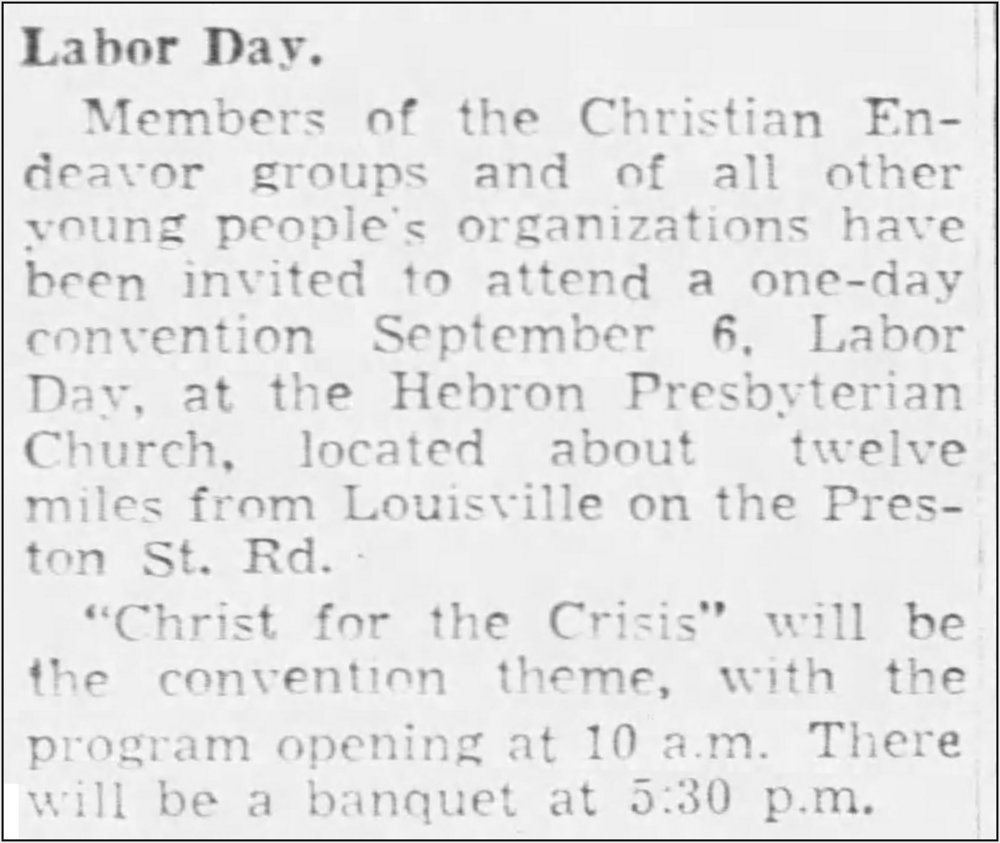 Hebron Presbyterian Church has often opened its doors to others in a spirit of fellowship. Such a time occurred on Labor Day 1937, when members of young people's organizations such as the Christian Endeavor groups held a convention at the church. As always, where there is fellowship, there is food, and a banquet was provided by the church.
This notice was part of a column of church news printed in The Courier-Journal on 29 Aug 1937.
The notecard shown below was printed by a company called "Spalding Pubishers" of Chicago, likely in the 1950's or 1960's. We have found advertisements by them in those decades related to cards like this.
They advertised a box of 24 cards and envelopes "easily sold for $1" as a fund raiser. Does anyone remember when this was done at Hebron?
In May 1968, The Agape Singers appeared at Hebron Presbyterian Church. They were an interracial group of Protestant and Catholic teenagers who sang religious folk music written by their members.
This announcement appeared in The Pioneer News on Thursday, May 2, three days before the performance. Were you there?
Hebron Presbyterian Anchors by Families. Twenty years ago Missy Baxter wrote a piece about Hebron Presbyterian Church's 140th Anniversary for The Courier-Journal. Her article is transcribed below.
---
For generations, historic Hebron Presbyterian Church has been known as "a family church" to many people in northern Bullitt County. This year, the church marks its 140th anniversary.
"We have a lot of families who attend ... Some of them had relatives who helped start the church," said Art Turner, the pastor.
A small group of friends constructed the church sanctuary in 1858 on the corner of Hebron Lane and Preston Highway after meeting for two years in a schoolhouse nearby. The church's name was chosen from the Bible -- Hebron, where Abraham, Isaac and Jacob spent so much time, according to Turner.
Turner, who became the church's pastor in April after serving for several years as its youth director, said his congregation is proud of the church's history and its strong commitment to families.
"With the church being 140 years old, we have families with several generations who attend," he said.
Listed on the National Register of Historic Places, the quaint church has just more than 100 members. Although it is somewhat small, Turner said, the congregation is "friendly, committed and growing."
Through the years, the church has added services to meet needs in the community. For instance, in the 1970s–before the county's public schools offered kindergarten–Hebron Presbyterian Church provided that service.
In response to the need for more recreational facilities, the church opened a new activities building in 1996 that is used for recreation, fellowships and receptions. The building also can be rented for community events.
At the request of some in the congregation, the church will begin holding Wednesday evening Bible study classes next week.
Turner said the church has flourished over the years because many of the improvements were done by church members. "It's this unselfish spirit and donation of time and funds that has brought Hebron through its first 140 years," he said.
The Courier-Journal, Saturday, 31 Oct 1998.
Presbyterian Women have long been an important part of the church's life. Witness this meeting of the Ladies' Auxiliary of the Presbytery of Louisville held right here at Hebron Church in October 1917.
A century later our ladies are just as active as ever, and we appreciate all they do to make Hebron Church a vital part of our community of faith.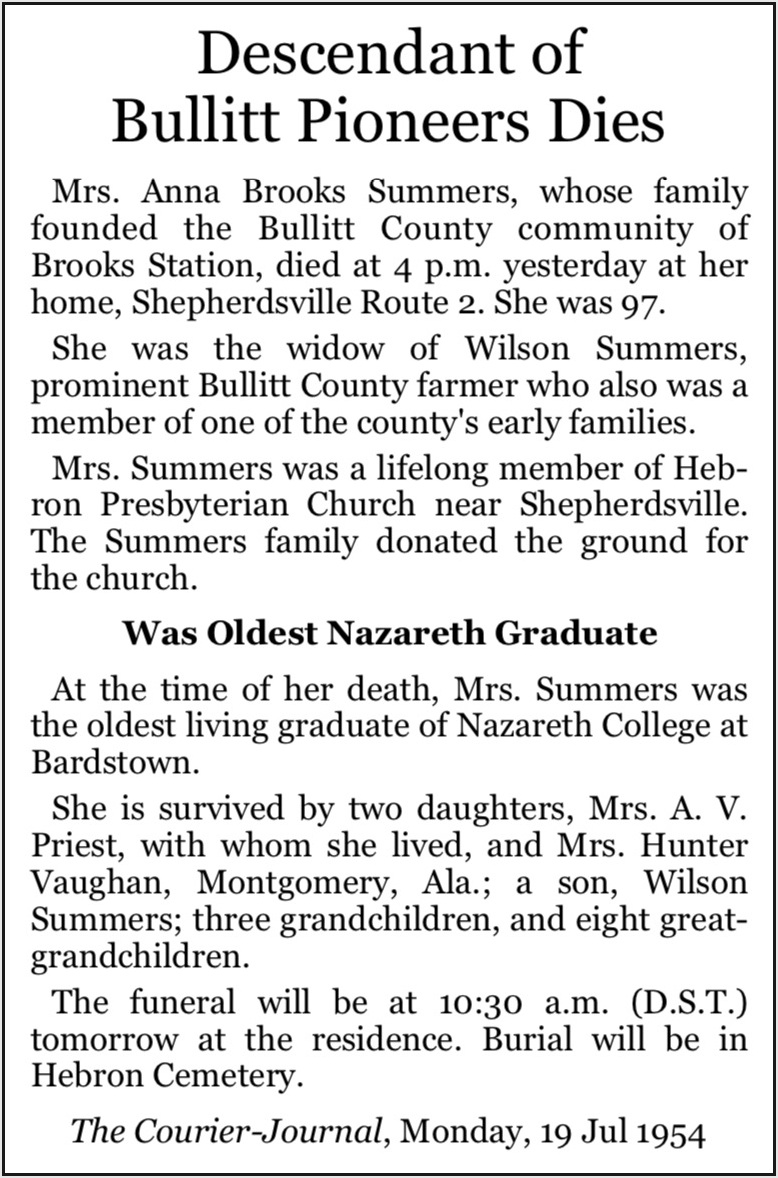 Anna Brooks Summers was a daughter of Walter B. Brooks, and great-granddaughter of the pioneer Joseph Brooks. She married Wilson Summers on 4 May 1881, following the death of her first husband, Dr. Henry Duncan Pope, in 1877.
Wilson Summers was a son of John Beckwith Summers, who in turn was a son of Benjamin and Volinda (Beckwith) Summers; and Volinda was a daughter of John and Martha (Williams) Beckwith.
Now Benjamin and Volinda also had a daughter named Martha who married Matthew Wilson, and they had a daughter named Mary on 12 Jan 1826, which brings us to purpose of this little essay.
Mary Wilson had not married by the time of her father's death in 1856, and she inherited a part of the farm which had originally been a part of the Summers farm.
Then, on 8 Dec 1858, Mary V. Wilson deeded one acre of land to "James S. Beatty, Upton Wilson, and James W. White & their successors in office to be appointed according to the rules adopted by the general assembly of the Old School Presbyterian Church of the United States."
Which explains how the report of Anna Brooks Summers' death could say that "The Summers family donated the ground for the church."
On 24 Feb 1869, at the age of 43, Mary V. Wilson married the Rev. James Newton Saunders in Nelson County. Saunders was a Presbyterian minister. He and Mary would spend most of the remainder of their lives in Bloomfield. He died on 23 Sep 1898; she followed on 10 Sep 1900.
Another wedding of note was the Whitman-Tyler wedding in June 1935. Elizabeth Whitman and Robert Tyler honored Elizabeth's parents by being married on the same day, and in the same place that her parents had married 29 years earlier.
Robert and Elizabeth would be married 57 years before his death in 1992. He retired from Chemetron-Tube Turns where he was traffic manager. He also owned the Maplehurst Golf Course. Elizabeth retired from the Jefferson County Public Schools where she taught for many years. She lived until 2003.
Elizabeth's parents were William Thomas and Sarah (Robards) Whitman. William worked as a civil engineer for the City of Louisville for many years.
Pinkney Jefferson Garrison, Jr. was Hebron's pastor at the time of their wedding. Jeff, as he was known, was born in Georgia. He graduated from Davidson College in 1928 with a Bachelor of Arts in English, and is pictured here from his school yearbook. He received his Master of Theology from the Presbyterian Seminary in Louisville in 1937 while still at Hebron.
By 1940, Garrison was pastor of a church in Winston-Salem, NC. He would retired from ministerial work in 1971 when he was the executive secretary for the Northeast Texas Presbytery.
Dr. John Rood Cunningham, who performed this wedding, is described further down this page.
The following notice appeared in The Pioneer News, dated 10 Apr 1924:
"Notice is hereby given that the Hebron Presbyterian Church, located on the Preston Street Pike, five miles from Shepherdsville, is about to build a brick addition to the present building. This addition is to be 22 x 35 feet and two stories high. The plans and specifications are at the Manse of the Church. Address all communications to G. S. Wuthrich, Pastor, Shepherdsville."
Guy Sidney Wuthrich, a student at the Presbyterian Seminary in Louisville, was ordained and installed as minister of Hebron Church, near Shepherdsville, on 22 Apr 1923. He was approaching his fiftieth birthday.
He remained at Hebron for a bit over two years, before moving to Kansas City, Missouri in the summer of 1925. By 1930, he had returned to Kentucky, and was the pastor of Sharon Presbyterian Church in Augusta when he died of a heart attack aboard a train between Cincinnati and Dayton, Ohio, while on the way to his daughter's home in Warren, Ohio.
Back in 1925, when he was preparing to leave Hebron, the local correspondent for the Hebron area wrote in The Pioneer News, "We hear that Rev. Wuthrich, the beloved pastor of Hebron, will go to Kansas City, Mo. to a new field of labor. We join with many others in sincere regret that our community must lose this family. Both Mr. Wuthrich and his wife have made their influence felt in the uplift and betterment of this part of Bullitt. The whole family will be missed."
Hebron Presbyterian Church has often been the scene of joyous weddings. Here is a report of one that occurred in 1931 between Alice Cordelia Rhea and James Vernon McAfee. As a side note: Rev. Herbert H. Watson, who performed the wedding, was ordained and installed as pastor of the Munfordville Presbyterian Church in July 1928. He was living in Bullitt County during the 1930 census along with his wife Grace, and their two sons, Baxter and Henry; and was still in Bullitt County when he was called to the Plattsburg, Missouri church in December 1934.

As a small rural church, located not very far from the railroad depot at Brooks, Hebron Church was a convenient location for students and new graduates of the Presbyterian Seminary in Louisville to begin ministry. As a result, a change in ministers at the church occurred rather frequently, as those with some experience soon moved to larger congregations in other places.
Such a man was Herman Jones. He grew up in Knoxville, the son of Elisha Jones who was the steward of the Tennessee School for the Deaf in that city. In 1894, he married Lillian Oldham and by 1900 they had a son, Herman Jr. At that time he was a traveling salesman, located in Little Rock, Arkansas.
Sometime between that time and the latter part of 1909, Herman felt called to ministry. By the first part of 1910 he was serving as Hebron's pastor while he attended the seminary. By all indications, he was a popular minister, and he remained there until graduating from the seminary in April 1912.
More than a decade later, in March 1925, he returned to the community on a visit and filled the Hebron pulpit where he was warmly welcomed, as you can read in the article shown here that is taken from the April 3, 1925 issue of The Pioneer News.
Rev. Jones continued his ministry for many years, and also served for a time on the faculty of the small Presbyterian school, Davis & Elkins College in Elkins, West Virginia.
Anyone knowledgeable of Presbyterian history in the last century is likely familiar with the name of John Rood Cunningham. He was selected president of the Louisville Presbyterian Theological Seminary in 1930; went from there in 1936 to the pulpit of the First Presbyterian Church of Winston-Salem, North Carolina; and was chosen as the president of Davidson College in that state in 1940.
What you may not know is that his first pastorate following graduation from the Seminary was Hebron Presbyterian Church in Bullitt County. In fact, he was ordained here in December 1917, as reported in this Courier-Journal article.
Samuel Forman Taylor served as Hebron's pastor from 1880-1889.
Here is his obituary as printed in The Evening Bulletin, on Saturday, April 20, 1901.